Post by Matt on Mar 2, 2007 20:11:29 GMT -5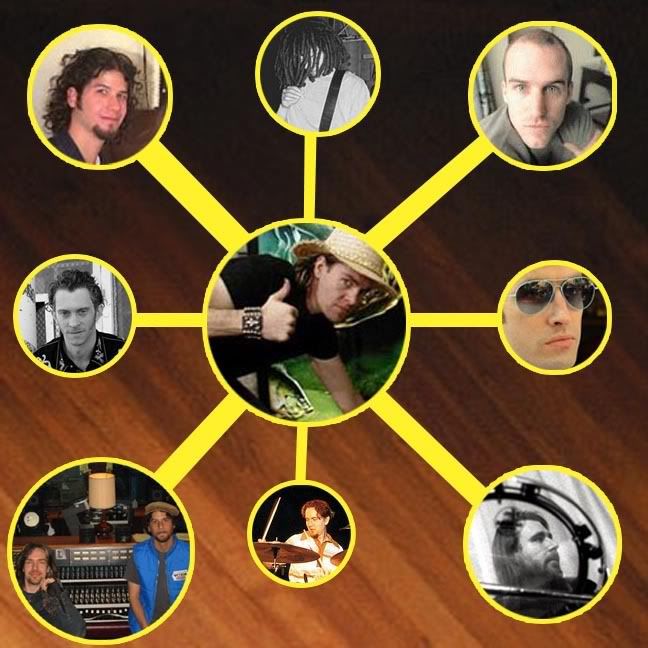 Members/Sit-Ins
Brad Smith - Guitars, Bass, Drums, Vocals, Baritone Horn, Flute, Percussion, Organ and Jawharp.
Josh La Belle - Drums.
Christopher Thorn - Slide and Reg Guitar.
Rogers Stevens - Guitar and Organ.
Glen Graham - Drums.
Matt Chamberlain - Drum Loop.
Mike Peterson - Drums.
Kevin Whitworth - Slide Guitar.
Jimbo Mathus - Trumbone.
Andrew Bird - Fiddle.
Rob Mitchell - Piano.
Terry Stevens - Guitars, Auotharp.
How Abandon Jalopy is related to Blind Melon:
Abandon Jalopy is Brad Smith's solo project. Fellow Melon members, Rogers Stevens, Christopher Thorn, and Glen Graham all took part in recording the record "Mercy".
Brief History - From Amazon.com
[/b]
Brad Smith was a small town boy who caught the same fever that was gripping his entire generation: the burning desire to be a rock and roll musician. He would eventually hitch his wagon to a shooting star that burned too brightly for this world, and would watch his dreams come to fruition and then slip away. Smith had his modest beginnings in 1968 in the small, rural Mississippi town of West Point.
During his childhood he split his time between his mother's house, his grandmother's (known as "Big Mama" from the song Instead) and yes, he also spent some quality time with his father in the trailer park made infamous by the song Speed Bumps. His memories from this time are mostly fond, learning life lessons and the value of hard work from his family. He was soon introduced to the classic rock of the seventies by his mother and uncle, and forsook his private-school status as "Mr. Oak Hill Academy" for the trappings of a rock and roll life. He and his childhood friend Rogers Stevens began cobbling together a garage band as they dreamed of making it on the world stage.
After a year of college, Smith and Stevens decided to pack up their belongings and head for the promised land of stardom that was Los Angeles, California. Upon arriving, the brothers-in-arms set about working in construction and trying to keep their heads above water. They quickly learned the rules of the mean streets, a saga chronicled in the song Slow Down Good Times. They soon hooked up with a talented guitarist named Christopher Thorn and their old friend drummer Glen Graham, and began making music. Their fate was later sealed as they were joined by a vocalist named Shannon Hoon and formed the band Blind Melon.
The story of Blind Melon is by now well documented. Their first album was carried to quadruple-platinum status on the strength of a simple song called No Rain and its quirky video starring the charming, dancing bee girl. World tours soon followed along with monetary success and fame. The pressures of that life took their toll on Hoon, however, and on October 21, 1995, just after their second album Soup was released, Shannon Hoon was found dead of a drug overdose in New Orleans. The band's tour came to a grinding halt, and there were very few pieces left to pick up.
The remaining band members eventually put together an album of previously unreleased songs entitled Nico, the name of Hoon's surviving daughter, and dedicated the proceeds to her. The death of Shannon Hoon had a profound effect on the life of Brad Smith. "I was so used to touring and making music with my friends, and then it was just over with," Smith says. His life "stood still for six months" after the tragedy, even though his perspective remained pragmatic. When asked, he ultimately places responsibility for Shannon's death on Hoon's own shoulders. "I was right there on that same tour bus with everybody else, and I made better decisions than he did," he says about the friend he "sorely" misses.
Devastated, drained, and grieving for his lost band mate, Smith retreated to his Seattle home and his in-house recording studio, Stank Face Laboratories. He spent several years working on the songs that would become the Mercy solo album, and found that writing and composing provided him with much-needed therapy after such an emotional upheaval. When the album was ready to record he called in Christopher Thorn to produce. Smith took turns playing most of the instruments, and invited a few friends in to play some other tracks, including On the Blink and Stompin the Fuse, on which he reunites with his former Blind Melon members. Once finished, he dubbed his solo project with the name Abandon Jalopy. Some of the songs on Mercy directly examine his feelings towards Hoon's death.
Stankface Lab
[/b]
Stankface Laboratories is an independent record label based out of Los Angeles, Ca. It was started by Brad Smith (principle songwriter and founder of the multi platinum recording group Blind Melon, and former member Unified Theory). Our first release, Brad's solo album, is a collection of songs written, performed, and produced by Brad himself. It also features the remaining members of Blind Melon, as well as Squirrel Nut Zippers, Fiona Apples touring drummer...etc.
----------
Visit the Official ABANDON JALOPY MySpace Site!
^Free Unreleased Downloads^
----------