Post by Matt on Mar 2, 2007 20:06:31 GMT -5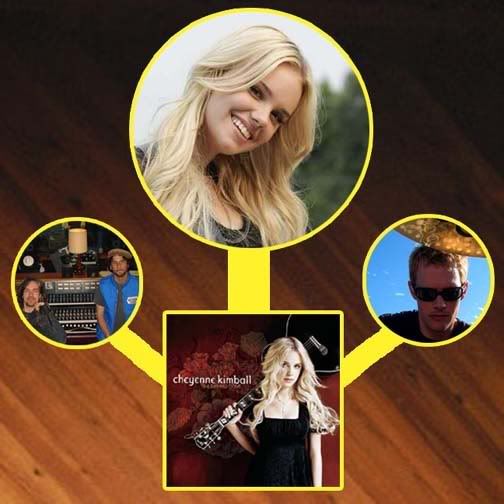 How Cheyenne Kimball is related to Blind Melon:
[/u]
It's quite simple really. Not only is Blind Melon Cheyenne's favorite and inspiring band, she recorded at Studio Wishbone with Brad Smith and Christopher Thorn (not to forget Dave Krusen as well). Cheyenne spent 6 months recording with the boys of Wishbone.
Brief History:
[/u]
The following was taken from
www.starplus.com
.
But not all of Cheyenne's experiences in the studio were as emotionally draining. One of the happiest times of her life was spending six months recording in California with bassist Brad Smith and guitarist Christopher Thorn - both former members of Cheyenne's favorite band, Blind Melon. It was the quintet's self-titled debut that first inspired a seven-year old Cheyenne to pick up a guitar. "I remember very clearly the first time I heard 'No Rain.' It came on the radio - it had to be a few years after the record was out - and I was hooked," she says. "I just had to learn how to make those sounds. A friend gave me a guitar a few months later and I was on my way."
The sessions with Smith and Thorn, Cheyenne says, became a turning point for her songwriting. "When I was working on 'Everything To Lose' with the guys, I started to feel more confident than I ever had," she recalls. "I can never thank them enough for helping me open up as a songwriter and teaching me how to let the music flow organically. I cried the day I left their studio because it felt like I was leaving home."
----------
We (Blind Melon Forum) were able to get in touch with Cheyenne. She stated that Brad Smith (who she calls B-Rad) and Christopher Thorn (CT) recorded, wrote, and performed on three of her releases. The titles of the songs are "Everything to Lose", "Good Go Bad", and "Didn't I". She also pointed out that Dave Krusen (Unified Theory/Candlebox/Pearl Jam) also played drums on those songs. Speaking of Krusen, before Cheyenne moved to Nashville, Krusen (who she calls 6 Billion Dollar Dave) was her touring drummer. As it stands now, Cheyenne is being backed by a local Nashville band.
When it comes to Shannon Hoon, Chey (pronouced "Shy") had the following to say: "Shannon Hoon, you will always be in my heart, and my music."
Quick Note: Cheyenne had her own reality show on MTV in the past, called "Cheyenne".
Another Quick Note: Cheyenne was very happy to have this section open on this site. She thanks us all.
----------
For more information, visit Cheyenne's official site:
Chey's Official Site
Or, visit her on
MySpace
.
Check out her
Fan Site
as well..
The sound bite was taken from the song "Everything to Lose".
right click... save as
Everything to Lose Clip
Also, if you would like to see Cheyenne performing on the Late Late show (with Dave Krusen on drums) click
HERE
.